A place of peace and serenity, Badrinath Dham is one of the popular pilgrim destinations in India visited by thousands.
The sacred town is located in Chamoli district, Uttarakhand and is one of the important among the Char Dhams in India.
Sandwiched between the majestic Narayan and Nar mountain ranges, this charming abode serves as a refuge for those who seek inner peace.
Perched at an altitude of about 3,133 mts from the sea level, Badrinath Dham is home to the famous Badrinath temple that lures in thousands of devotees from every part of the world.
History of Badrinath Dham
The word "Badrinath" is a combination of two words – Badri (berry) and Nath (lord). This is in reference to the abundance of berries found in the surrounding areas.
It is believed to be the dwelling place of Lord Vishnu and other holy sages and saints. The famous Badrinath Temple is one of the major highlights of the place that lure in many pilgrims.
The holy river Alaknanda that runs by the temple is of great importance too. Legend says that Goddess Ganga was requested to come down to Earth for the welfare of humanity by the Suryavansh king, Bhagiratha.
The Earth was unable to bear the descent of the goddess and the mighty Ganga was split into twelve rivers with Alaknanda, being one of them.
Legend also says that Pandavas, on their quest to Swarga (heaven) died one after the other while ascending Swargarohini Peak.
It is also believed that they crossed Badrinath and the nearby town of Mana during their journey. Mana townhouses a cave that was said to be the place where Ved Vyasa wrote the Mahabharata.
Places to visit in Badrinath Dham:
A trip to Badrinath Dham will not disappoint you as there is something to explore and enjoy. Apart from being a holy town, Badrinath is also a tourist hub that siphons in thousands of visitors.
From waterfalls to lakes, temples to parks, Badrinath is a potpourri of various wonders that one must explore! It serves as a perfect hub for adventure buffs as they can take part in a variety of exciting outdoor activities.
Given below are a few of the must-see places in Badrinath Dham.
• Badrinath Temple: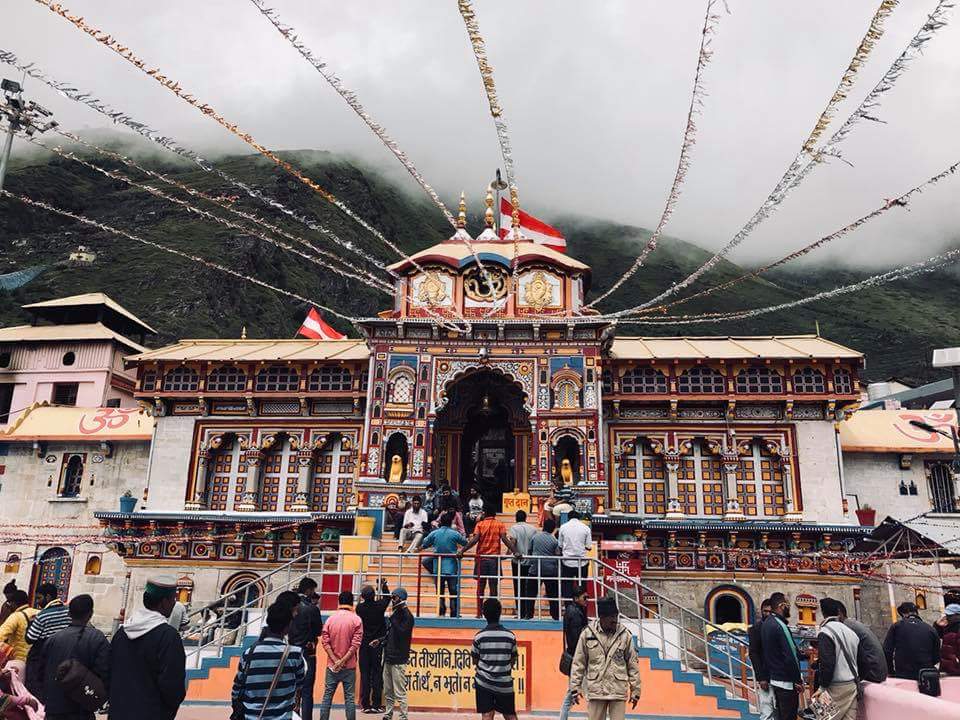 One of the major tourist attractions in Badrinath Dham is the famous Badrinath Temple. Nestled cozily on the laps of Garhwal hills, the temple is the abode of Lord Vishnu.
The temple also boasts of being one of the four Char Dham pilgrim sites. Many people throng to this place to witness the ravishing beauty of nature and to take part in various ceremonies and festivals.
• Vasudhara Falls: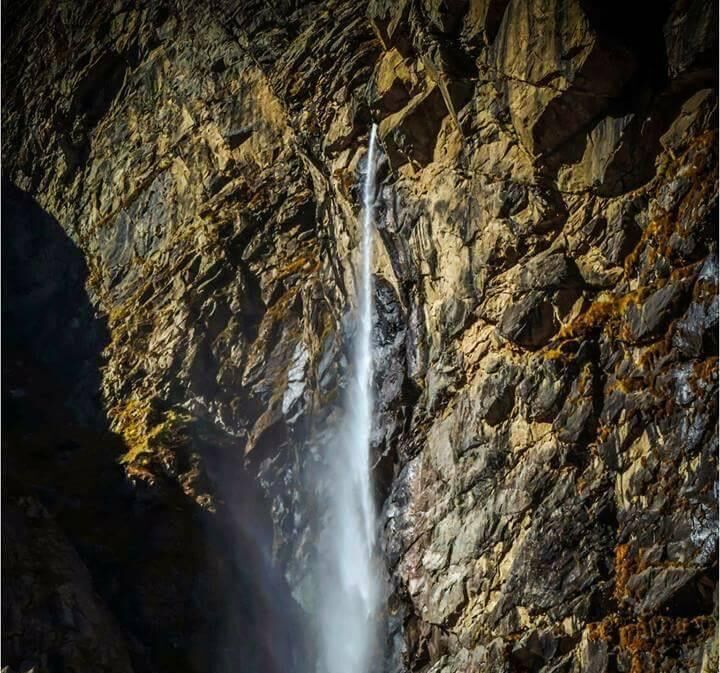 If you love to get away from it all and spend a rejuvenating time in the laps of nature, then check out Vasudhara Falls in Badrinath Dham.
Apart from its intoxicating beauty, the waterfalls serve as a resting place of the Pandavas and hold an important place in history.
The alluring aura of this place and the magnificent views of the shimmering waterfalls will surely steal your heart!
• Tapt Kund: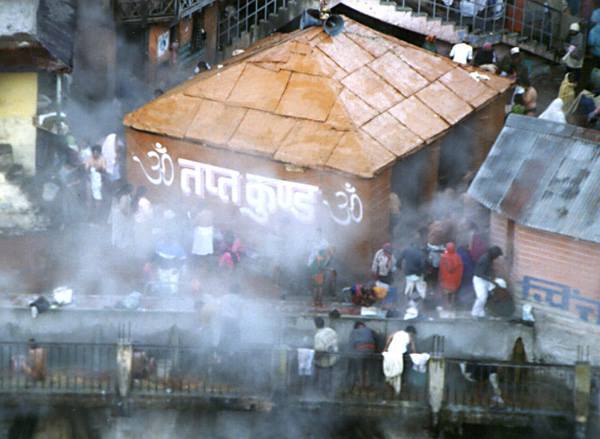 Tapt Kund is one of the apt places to enjoy a therapeutic bath. This hot spring located above the famous Alaknanda river is believed to have medicinal properties.
Visitors throng here on a daily basis to enjoy bathing in the soothing waters. The place is also believed to be the abode of Lord Agni.
• Charanpaduka: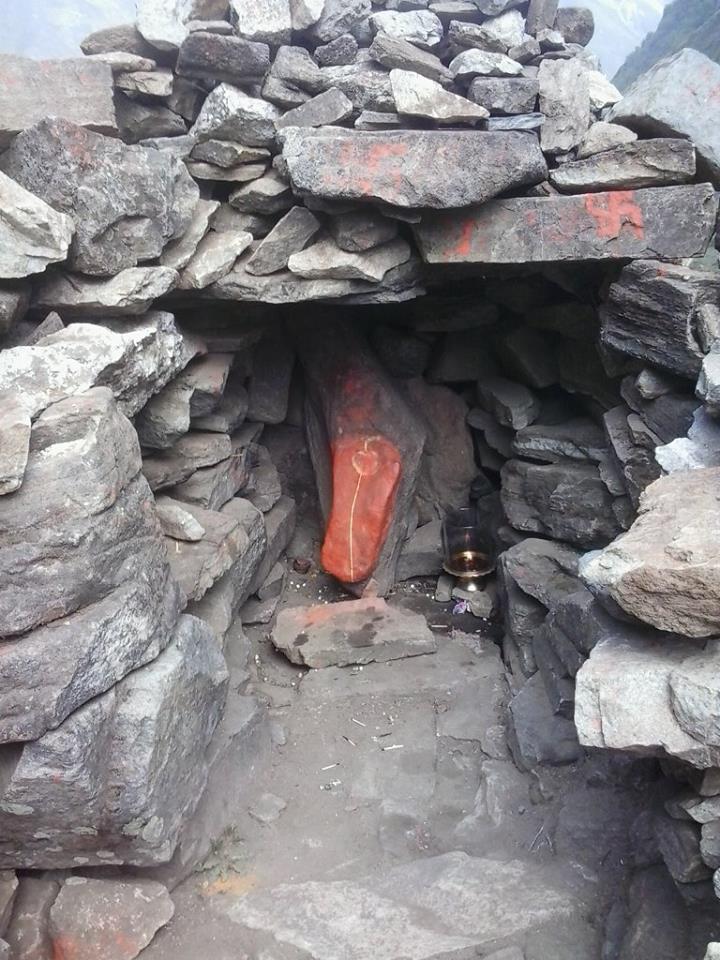 Another place that holds an important place in the scriptures is Charanpaduka. The entire region is speckled with imprints that are believed to be made by Lord Vishnu.
Legends also state that Lord Vishnu first set foot on Earth at this place, making it one of the holiest places in India. The place is reputed for its serene beauty and tranquil surroundings.
Adventure Activities in Badrinath
Adrenaline junkies visiting Badrinath will not be disappointed as there are many activities to enjoy and explore. Some of the activities that you need to enjoy in Badrinath Dham include :
• Trek to Chandrashila Peak
• Trek to Tungnath Temple
• Kedarnath trek
• Alaknanda river rafting
• Motorcycle expedition to Mana
Thrill seekers who wish to experience fun like never before must explore the Himalayan Adventure Camp. You can enjoy taking part in various activities such as white water rafting, bonfire, kayaking, and more.
Hotels in Badrinath Dham: Available in Wide Array of Choices
Badrinath is peppered with many types of hotels that cater to the requirements of people from all walks of life. One can choose from budget hotels, deluxe hotels, and cottage hotels, among others. Given below are a few of the top choices.
Badri Ville Resort, Narayan Palace, Snow Crest and Sarovar Portico, are some of the reputed three-star hotels where one can experience a cozy stay.
Set amidst peaceful environs, these hotels are apt for both family groups and pilgrims. These hotels provide valley-facing rooms that offer stunning views of the majestic mountain ranges.
The rooms come with amenities that range from LCD television to ensuite bathroom, etc.Tourists can also choose from two-star hotels such as Jagirdar Guest House, and Dwarikesh.
Budget travelers who do not wish to scorch a hole in their pocket can experience a relaxing stay at the one-star hotels and government guest houses in Badrinath Dham.
Some of the hotels that fall under this category include S S International, GMVN Badrinath Govt TRH, and GMVN Badrinath Yatra Niwas, among others.
Badrinath Weather:
Before planning your trip to this holy place, it is mandatory to make a note of the climate conditions. The best time to visit Badrinath is from May to October.
One must avoid visiting Badrinath Dham during monsoon times as the areas are prone to landslides.
Badrinath enjoys a salubrious climate during the summer months (March to June), which is apt for pilgrimage and sightseeing.
Travelers who love chilly weather and snow must make it a point to visit Badrinath during the winter season (November to February).
How to Reach Badrinath Dham :
Badrinath Dham is well-connected with the rest of the cities through air, rail, and roadways. The nearest airport, Jolly Grant Airport is 314 km away from the city.
Frequent trains are operated from Rishikesh Railway Station, which is the nearest to Badrinath. One can also hire taxis and buses from other places that include Chamoli, Srinagar, Pauri, etc.
What more do you need to unwind? Choose your best means of transportation and get ready to explore Badrinath Dham!