I and my family love to travel to places and explore areas that are on our bucket list. This time around, I was planning my family vacation when i came across an image of white desert that floated around on my facebook page. The sunset view of the desert was so peculiar and breathtaking that I couldn't stop myself from googling about the place and to know a bit more about the place. This is how i searched far and deep and ended up looking all the marvellous places that Gujarat has to offer. This was it, Gujarat was my next travel destination and I was thrilled to share my plans with the family. That entire afternoon I couldn't make myself concentrate on work and was wondering about how to get to the place and what all exotic places I need to travel too.
As Gujarat has so much to offer, sunset point, marine national park, world's longest coastline, home to asiatic lions and white desert, a weeks trips is not enough. But having no other choice, settling for two weeks holiday from office and pretty much covering the major places was my motive. As expected my family was thrilled to know that we are about to go to Gujarat and see the great culture of the state. My wife was particularly interested in seeing the somnath temple that has a great historical importance, while kids got excited about the Gir Forest.
Top Attractions of Gujarat
A few years back, Gujarat as a tourist destination was out of the Indian map as its importance was not highlighted. With increased awareness about the major attractions it has become a main vacation spot. The state is full of monuments, temples, palaces and national parks and sanctuaries that will easily fill your travel appetite. Besides, it has a hill station that will give a complete different edge to the vacations.
To reach the destination, a number of transport options are available for travelling. As I was travelling with the kids I prefered taking a flight as that would save on time. After having reached our hotel, the next day we all geared to visit the main attractions one by one.
Deciduous Gir Forest
Gujarat is home to a large number of asiatic lions that makes it one of the most attractive destination. The Gir forest located in Junagadh is a deciduous forest and harbours about 300 species of asiatic lions. The national park is popular for its silk cotton trees that has orange flowers gives an orange hue to the brown landscape of the national park. Moreover, a jeep safari inside the national park provides an option to see lions upfront from a distance but the experience is worth taking. As we went in May, this time around catching a glimpse of the lions is not difficult as the bushes are relatively shorter due to shortfall of rains.
Dwarkadhish Temple
Our next stop was Dwarkadhish temple that is one of the four dhams and sacred cities in India. The temples mythological importance is not new and is known to many. I specially went to the temple to make my kids aware about the mythological significance of the place that would stay with my children for long. According the mythical history, Dwarka nagri is the kingdom of Lord Krishna that makes it a holy place. The magnificence of the temple can be seen as it is 72 stories tall and is standing on 72 pillars. The temple is made of sandstone plinth with walls decorated with dancers, architecture, elephants, celestials objects. Besides, we made sure to visit other temples in the vicinity such as Rukmani devi temple, Bet Dwarka Temple.
Great Rann of Kutch also called the white desert is a serene place to spend at least a day. Located in banaskantha, the desert is white in color because of salt deposits. The desert experiences extreme weather conditions from being extremely hot at 49 degrees to even touching the lowest of 0 degree. Camel rides, cultural activities and the Rann Utsav are the major attractions of the desert that makes it a hot travel destination. Rann Utsav is one of the biggest carnivals that starts after october and stretches for about three months. Utsav is famous for its tents that are luxurious for night stays. Has activities that are organised throughout the evening. Some of these include folk music, dancing, fun zone for kids and paramotoring.
Somnath Temple
On the third day of our stay we pretty much covered four places starting with Somnath temple. The temple is important because of its mythological history connected with Lord shiva. The temple has one of the 12 jyotirlingas of Lord Shiva and witness a huge influx of devotees. One of the peculiarities about the temple is that it house one of the most expensive aartis even costing more than 15 lakhs.
Champaner-Pavagadh Archeological Park
Champaner is a deserted city and the Champaner-Pavagadh Archeological Park has been named by UNESCO as world heritage site. The park is blistering with forts, monuments and palaces which seems that these monuments are right out of a story telling book. The place seems the right spot for kids to witness the marvels that have fought the wear and tear over time and are a mark of great heritage that India has.
Sabarmati Ashram, Ahmedabad
This famous place belongs to the Great Mahatma Gandhi. Originally it was called Satyagraha Ashram. It is situated on the banks of river Sabarmati and has symbolic and political importance. Gandhi stayed in the ashram for long and finally left the ashram in order to get freedom struggle. Inside the ashram there is a memorial museum that has a vast collection of mahatma Gandhi's writings and teachings. The ashram also conducts programs and activities related to the life of Gandhi that glued our attention to the kind of life that gandhi lived. The experience was one of a kind. Me and my kids totally loved the place and its serenity.
Saputara
Saptura is not a usual place. Initially i thought that Gujarat is about monuments and temples but was amazed to see this beautiful hill station. This place was an awesome retreat from the general humid climate of Gujarat and was full of gardens. Rose garden, honey bee garden. Besides, gira waterfall and sunrise point are other places that are filled with tourists. The hill station is between the sayadri hills that are close to the dang forest.
Palitana Jain Temple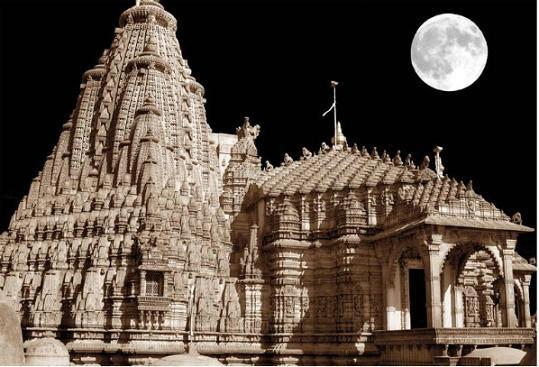 Next on our journey in Gujarat, we went to Palitana Jain Temple in Bhavanagar district. The temple is splendid and has amazing architecture. It is one of the most sacred temples of the Jain religion. To reach the temple, one has climb about 3800 steps to catch the glimpse of t he epitome of beauty. At Least a day is required because if you start in the morning, you reach the temple only by the evening. As we set foot on the temple and take a round, the panoramic view of the Palitana can be easily seen.
Sun Temple Modhera
Sun temple the epitome of Solanki dynasty situated in Modhera is beautiful temple. It is one of the existing temples for worshipping God Sun. The visit to the temple was unparalleled then any other temple. Intricately curated pillars that provide the support to the temple are flawless. Each design and finishing is perfect. One can see the marvels that were built even at the time of 1027 AD. Even the traditional techniques with which these are made is breathtaking. Inside the temple there are three sections, a prayer hall. In all 52 pillars are standing that provide the base to the temple.
Velvadar Black Buck National Park
Me and my kids are always excited for national park and safaris. This lead us to this dense national park – Velvadar Black Buck. The national park is located in the Bhal region and is the best place to overcome the wanderlust for black bucks and safari's. The park is of immense importance because it is the only tropical grassland forest that is located in India.
Great Indian Bustard Sanctuary
As we covered most of the wild life sanctuaries and national parks, Great Indian Bustard Sanctuary was not to be missed. The park is full of one of heaviest flying birds and with all probability we went there to catch a glimpse and we were not disappointed. Spread over a area of 2 km, the sanctuary also harbours other birds like McQueen Bastard, Bushchats. Though there is no safari option available in the park, one can easily walk around the bushes to see the birds flying.
Rani Ki Vav, Pipav
Gujarat is full of ancient monuments and palaces and this Rani ki Vav s another archeological site that has its own history. This step well is know to have been made for queen of Bhimdeva. This place recently came into light after it was unearthed. The walls of the step well are ornamented and has figures of gods and goddesses incarnated on the pillars.
Laskmi Vilas Palace
This extravagant palace is located in Vadodara. This tall structure is standing with pride and exudes royalty. This famous palace is said to be four times the size of the famous buckingham palace. The palace has a panoramic view and was home to Maharaja Sayajirao Gaekwad III. Though the entire villa is not accessible to visitors a part of the same can be explored that comprise the museum.
Ahmedabad: Historical and Heritage Walk
Besides the many monuments, parks and palaces, Ahmedabad city of Gujarat is another destination that we explored. This city of gujarat has many amazing spots such as Kankariya lake, city markets, Akshardham Complex among other areas that can be visited in a day.
Surat: Visit to Beaches
Surat is another district of Gujarat that is famous for its diamond and textile industries. As we traveled to Surat by bus, a number of beaches pass by. Dumas beach is apopular tourist attraction in Surat. Other than Dumas, ubharat beach, and suvali beach are other common places which are mostly surrounded by tourists.
Bhavanagar: A Cultural Visit
Bhavnagar is another cultural hub in Gujarat. The place is particularly famous for silversmiths and other art and craft such as poetry. While our stay in Bhavnagar, we went up to takhteshwar temple that is situated up on a hill. Apart from this, we saw some other places like Nilambagh palace and Bav vilas palace.
The Gujarati Platter
Being in a different place altogether, it is necessary to try every cuisine. This time around Gujarat treated us with mouthwatering snacks, dishes and light snacks that we relished and even got them packed. Most of the areas in Gujarat serve vegetarian food only. One such place is Rann of Kutch. The food preparations are quite different mostly because of climate and techniques. The cultural food of Gujarat is mostly a mix of salty, sweet or spicy. Nevertheless, the dishes are worth a try.
The Bottom Line
Travelling to the state of Gujarat was one of the best decisions. The marvels, sculptures, monuments and temples clearly bring out the vast history of the state. The preservation of these monuments and temples for generations to come will great help in understanding the historical importance of the place. From sabarmati ashram to the Rann of Kutch, these places offer diverse experience with each being unique and different to the other.
A large number of temples fulfil the desire of the tourists and brings out the mythological truth of the Hindu religion. The Dwarkadhish temple is another epitome of religious significance and location near the shore makes it even more dreamlike.
The safari down the national parks and walk into the sanctuaries will be remembered for long, as these park give a similar experience to that of parks of savannah in Africa.Witnessing asiatic lions and Bustards was a memorable experience for the kids.