One of the most picturesque and highly revered treks in India is the Kheerganga trek, often considered to be a perfect getaway for the weekend. Kheerganga trek height goes up to a high altitude of 13,000 feet.
Located close to the Tosh village in Parvati Valley, Kullu, it is famous for breathtaking landscape views. From here, you can see the mighty Himalayas, cool water streams and springs.
Your starting point for this scenic journey would be Tosh village in Kullu.Gather at the sleepy town of Kasol, latest by 10 am for embarking on this beautiful journey.
One has to reach Bharsaini and then the trek really starts. Kheerganga trek distance is about 12 km in total, taking 5-6 hours for completion. After reaching the top, one will be able to check in to the allotted camps.
Know the History of Kheerganga
Two versions of history are available here. Incidentally, the one told by residents of Nakthan village is very funny so it would make greater sense to listen to the second version.
In Satyug, by the grace of Lord Shiva and Goddess Parvati, Kheer oozed out of the ground and started flowing in the valley.
For this reason, this place is called as Kheerganga, and it was converted into water with help from Parshuram, as the gods knew people of Kalyug would fight for it.
To this day, cream-like elements are found in the water here. Additionally, one of the beliefs is that drinking this water helps cure certain minor skin ailments.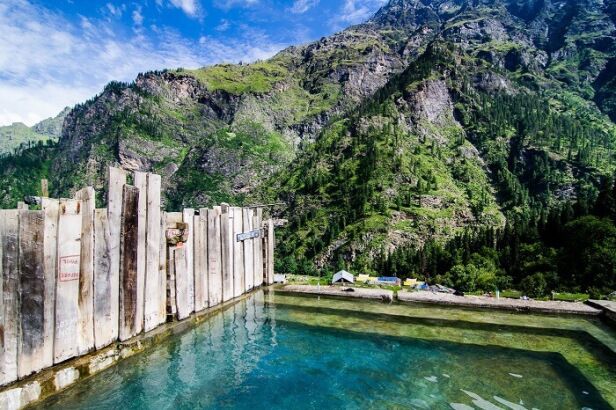 The Parvati kund is the highlight of this place and is believed to be 'holy' with healing and therapeutic properties. Kheerganga which translates to 'milky, holy water of pious nature' is said to be named after this tiny pool, which is considered sacred.
Is This Kheerganga Trek Difficult ?
Treks fall into three categories as per difficulty level- easy, moderate and hard. The Kheerganga trek difficulty level falls in the easy category.
Being an easy trek, it is an excellent one for first-timers. However, movement on land can get a little difficult during the monsoons since there is a lot of slush.
One of the major reasons for tourists to get attracted to Kasol is the Kheerganga trek. You will find a number of Israeli settlers and Indians as well who are simply in love with this town.
The natural beauty and a sense of relaxation prevailing in Kasol are its top attractive features. Tosh, Kasol and the entire Parvati Valley are areas where human beings co-exist with nature without trying to dominate.
Hot springs, snowy peaks, lush green forests and apple orchards are what you will gorge over in this trek.
Trek Route
As mentioned above, the real trek commences from Barshaini, a place that is 16 Kms from Kasol and is also the last motorable point in Parvati Valley.
Most trek operators usually provide transport from Kasol to Barshaini. A road branches off from Barshani towards Tosh village, which is 3 km from Barshaini.
Barshaini is a tiny village with basic amenities such as a few dhabas, few basic stay options, and a taxi stand. A road which is barely motorable runs from this place to Tosh village, at a distance of just above 2 Kms.
At present, a hydropower project is under construction in this area, which has affected Tosh's beauty.
However, it is expected that once the plant is commissioned and a reservoir formed, natural splendor shall be restored. One can take any one of the two routes listed below for the Kheerganga Trek from Barshaini.
1) For the first route, hike towards Kalga village from the bridge at Barshaini, On this route, you will traverse through dense forests, and though its length is greater than the second route, it presents an easy climb, highly suitable for occasional trekkers and beginners.
2) If you take a left from the Barshaini bridge, you will come to the second route that passes through Nakthan village. Though short and very picturesque, it is quite steep at places, making it difficult for some.
The second Kheerganga trek route is moderately difficult as a whole, but certainly not suitable for people with heart conditions.
Try to start your trek from Barshaini before noon, so that you can reach Kheerganga by sunset and then camp there for the night.
Staying Conditions at Kheerganga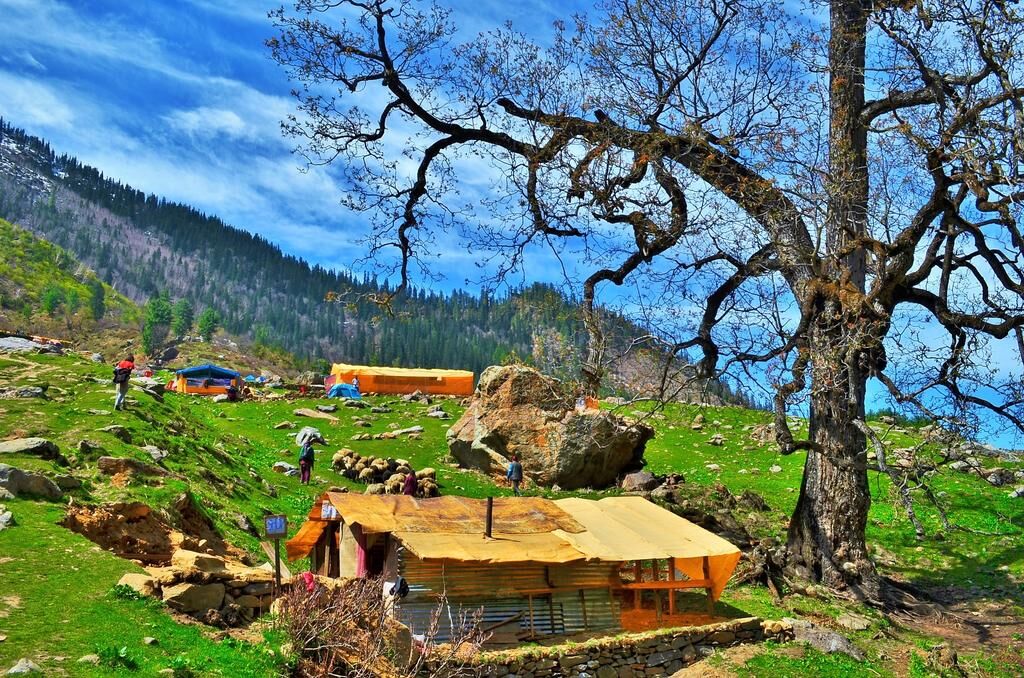 It is best to go to Kheerganga with a tour operator. The place is not a village but the tour operators will be able to provide camps and other makeshift stays.
There is also no electricity, so in times of cold, certain stays will offer tandoors in dining tents for warmth. Most establishments, including camps, operate on generators here, so getting food and staying here is usually on the expensive side.
Transportation in this area is pretty difficult. Therefore, it is very important that you book your trek with an experienced operator to make sure you get efficient service here.
Now, according to a recent court order, commercial permanent camping structures are not being allowed, though it is only a temporary ruling.
Alternatively, Rudra nag, which lies a few kilometers before Kheerganga, has now become a popular overnight camping spot.
Enjoy Food at Cafes
Close to Kheerganga is Kasol, and here you will find a number of tea-houses and cafes. There is also a natural hot water spring by the name Parvati Kund.
You will see these places dotted with Israelis, which may come as a surprise to many. Some of the popular cafes are:
Buddha Place
Mama café
Moon Dance café
Jim Morrison Café
Freedom Cafeteria
Stone Garden Café
Typical characteristics of these cafes include a laidback attitude, trance music, trippy vibes, and the kind of people who look for a good life.
Not just music from DJs but even live music can be experienced at many of these places, Cafes in Kasol are famous not just for amazing cuisine but also for the unique hippie experience that cannot be had anywhere else in India.
Additionally, every café has its own unique décor as well, which speaks a lot about how the owners were inspired.
One of the most spacious and distinctly different cafes in this area is the Shiva Shanti café. The colourful décor in this place is likely to elevate your mood to an entirely new level.
Low-rise wooden desks and trippy trance music will give you company as you enjoy the ambience and cuisine. Kheerganga trek best time ranges from May to June and from September to October thereafter.
May and June have the maximum number of trekkers making a beeline for this place, so if you are on a solo trip, then this is certainly the best time to visit Kheerganga.
Not to forget, this time of the year experiences the best weather. Monsoons is certainly not the right time to visit this area. And yes, Kasol does become a party hub at this time of the year- it also plays host to a massive music festival.
How to Reach Kheerganga:
Take a Volvo that runs from Delhi to Manali, and get off at Bhuntar. From Bhuntar, you will need to hire a cab to get to Kasol and then trek the distance.
There is also a bus that plies from Bhuntar to Kasol at regular intervals. Taking your own car is one of the best options, but if you are more confident on two wheels, hire from a bike rental.